Learn how to value your classic truck, prepare it for sale, advertise and market it, negotiate with buyers, and close the deal. Get our 5 tips for selling your classic truck!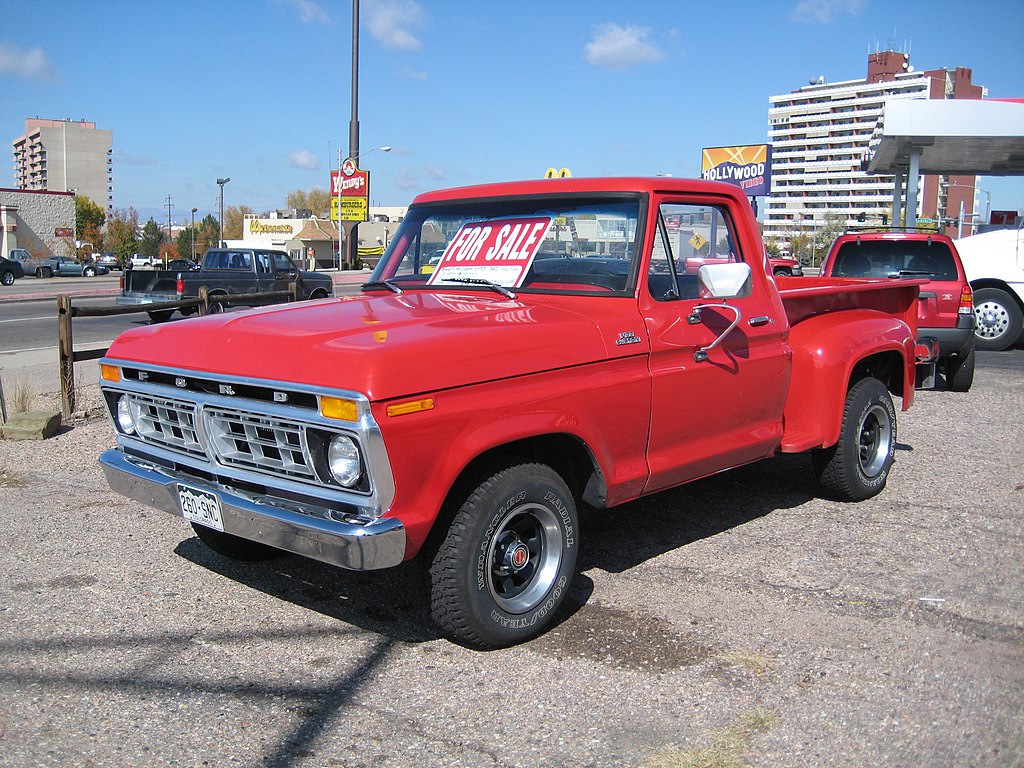 Photo by JOHN LLOYD freely used under Creative Commons Attribution 2.0
---
There's quite a bit that goes into selling a classic truck. Ensuring that you've valued it correctly, that you've prepared it for sale well, and ensuring that you advertise and market it effectively are just a few considerations, to start. There's also pieces around communicating, vetting, and negotiating with potential buyers of your pickup.
It's no small task, yet CheapClassicTrucks.com has broken it down, sharing this list of 5 tips for selling your classic truck. We hope it will make things go a little smoother for you!
1. How to value your classic truck
Valuing any classic automobile is a bit more difficult than simply running a VIN through Kelley Blue Book or NADA. Though those tools may come in handy, other tools like Hagerty's Valuation Tools do cater more to the classic auto market.
Be honest about your truck's condition. Hagerty's Valuation Tools aggregates sales data from across the web and shows the range of those sales trends for all types of conditions, yet it defaults to highlighting vehicles in better condition, first. Also consider checking your local market - browsing Craigslist and Facebook Marketplace - to get a better sense of what vehicles in a variety of conditions are being listed for.
Classics are an asset class in and of themselves, so make sure you research yours and price accordingly!
2. How to prepare your classic truck for sale
Getting your truck ready to sell is important. Unless it's clearly being sold just for parts, spend some time vacuuming inside, washing the exterior, and cleaning out the bed. Possibly also consider checking tire pressure, filling them up if need be, as well as adding gas and any fluids.
It's worth your time (ultimately getting you more and higher offers) to take the time to make any necessary repairs and do a tune-up, again unless it's clearly being sold for parts. Be honest about the condition as you prepare your truck for sale - if there's rust or any other auto body or mechanical issues, don't try and hide them.
3. How to advertise and market your classic truck
After you've landed on a price/price range for truck and you've cleaned, tuned, and prepared it for sale, now you're ready to list and promote it! There are a variety of options for selling your truck. Again, just like with valuation tools, some places cater more to classics than others.
Craigslist has long been a go-to for many, and for good reason. Classic trucks ranging from parts trucks to fully restored pickups have consistently sold well on Craigslist. As of the time of writing this article, they do charge a $5 listing fee to list any vehicle for sale.
Facebook Marketplace is a good option, as well. If you have a fully restored and higher end classic truck, and you're open to an auction, consider listing your pickup on Bring a Trailer or eBay. The nice thing about listing your vehicle for sale with any of the places that we've mentioned here is that you'll get some level of promotion and web traffic.
Perhaps biased, yet you may consider listing your truck (for free) on CheapClassicTrucks.com where you'll get a search-optimized listing page, a write-up, and promotion across CCT's growing social media pages and email subscribers. We're not exclusive, so you can (and should) list your truck anywhere else and we'll gladly point potential buyers in the direction of those sites for you!
4. How to communicate and negotiate with buyers
Honesty is the best policy, right? It truly is when it comes to selling your classic truck. Be honest about its condition, don't try to hide any defects or mechanical issues, or even minor leaks. Buyers are more apt to consider buying from you if you're transparent about these things. Be communicative and willing to send extra photos or answer specific questions for serious buyers.
When it comes time for negotiating the sales price, keep your lowest offer in-mind. If you feel like a particular buyer is trying to low ball, you don't have to take their offer. Be open to negotiating and also consider walking away from a deal if things aren't aligning in everyone's interest.
5. How to close the deal and feel good about it
Once you've found a serious buyer, or perhaps a few serious buyers, it's the exciting and somewhat bittersweet time to come to an agreement and sell your truck. Remember the value you came to during the time spent earlier in the process. Remember to remain honest about any defects or issues. And remember that it's ultimately up to you to know what you're willing to sell it for.
If you think that you've found the best deal for everyone involved, well congratulations! All of the time, work, and energy that you've put into valuing, listing and promoting, and selling your classic truck has paid off. Close the deal, ensuring that any legal requirements and forms are completed, and watch that new, happy owner drive your truck away. Good luck!
—
For buying classic trucks, check out the article we wrote: 7 Essential Tips for Buying a Classic Old Truck: A Complete Guide.